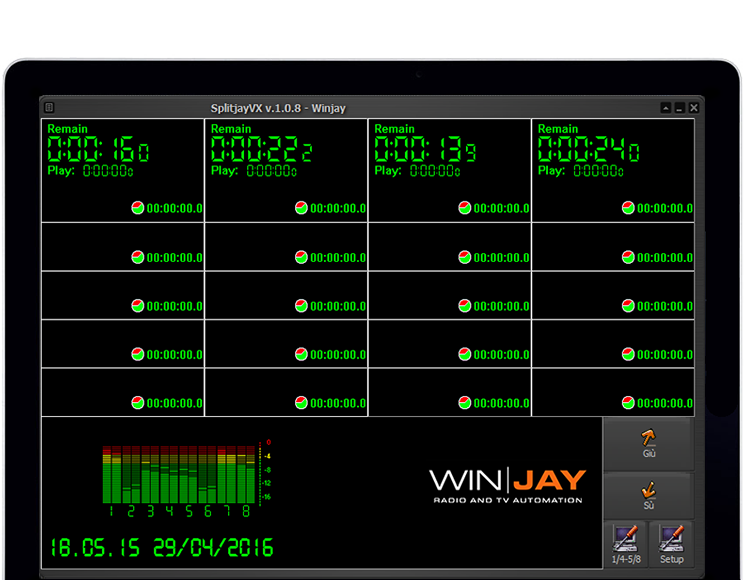 Manage commercial splitting up to 8 different channels with SplitjayVX
Manage commercial splitting up to 8 different channels from the same workstations, link more workstations to manage multiple channels, all with the same ease of use and friendly interface as WinjayVX radio automation.
SplitjayVX is a powerful commercial splitting software module handling with up to 8 areas from the same workstation. More workstations can be placed side by side to increment splitting areas depending on your requirements: 8, 16, 24 commercial splitting areas, and so on.
Multiformat playout engine
The WinjayVX multiformat, multi-overlap playout engine supports virtually any format among WAV PCM, ADPCM, mp3 (CBR and VBR), OGG Vorbis, WMA, FLAC, WavPack, MPC, AC3, AAC, mp4 iTunes, APE Monkey Audio, OFR OptimFrog, TTA, and many more !
Buy what you require
SplitjayVX is engineered on a multichannel building block structure, allowing from 1 up to 8 channels on the same workstation. Save money on initial purchase, add more channels later.
Plug & Play
SplitjayVX exchanges all the required runtime informations with the WinjayVX on-air module via a dedicated protocol on the standard Windows LAN, without any add-on relay cards.
Perfect transactions
The mySQL database engine offers virtually zero-maintenance integrity for your valuable data, high speed, reliable transactions and concurrent queries into a multiuser, multichannel configuration.
File cache
Powerful file caching mechanism automatically transfers commercials on the splitting workstation, to guarantee a rock-solid operation without audio drop-outs due to network latency. You don't need to copy and paste tracks manually.
Easy to interface
You can easily set SplitjayVX to directly drive the most common audio switchers or splitters.
Discover more…
Similar Posts: