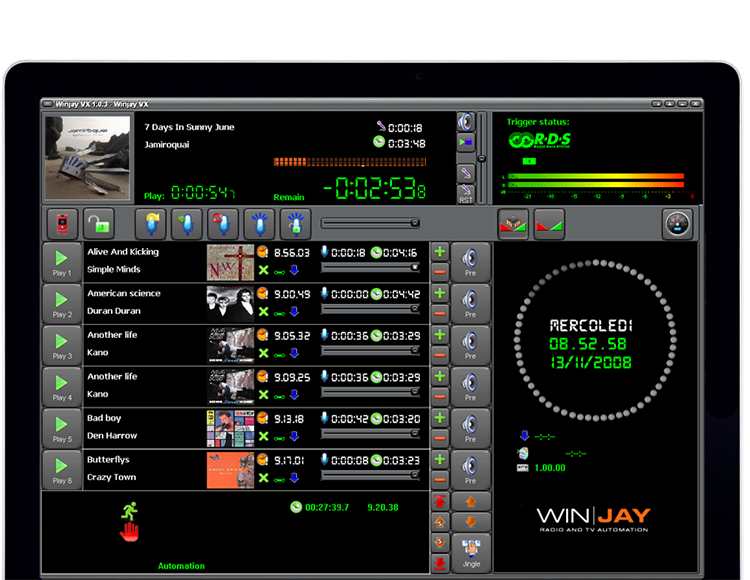 WinjayVX is the full-featured radio playout automation – broadcast-grade results without any compromise
Topics: Radio automation, playout automation, random music scheduler, commercial planner
WinjayVX brings the broadcast-grade radio automation within the budget of local channels. True multiformat, multi overlap audio engine on any off-the-shelf sound card, powerful random music rotation, integration of external feeds, speaker ovelaps, and a lot of more exciting features to always get stunning results without any compromise.
Multiformat playout engine
The WinjayVX multiformat, multi-overlap playout engine supports virtually any format among WAV PCM, ADPCM, mp3 (CBR and VBR), OGG Vorbis, WMA, FLAC, WavPack, MPC, AC3, AAC, mp4 iTunes, APE Monkey Audio, OFR OptimFrog, TTA, and many more !
Perfect transactions
The mySQL database engine offers virtually zero-maintenance integrity for your valuable data, high speed, reliable transactions and concurrent queries into a multiuser, multichannel configuration.
Webcasting features
WinjayVX outputs songs/artists informations to update the end-user players on most common streaming platforms (Shoutcast, Icecast, Windows Media, RadioHub), and can be configured to update even more data based on a user-defined script.
Razor blade cueing
The powerful off-the-air preview window provides non-destructive editing of your media (start, DJ intro, fades, etc.) so you will always get perfect transitions with no extra effort. Settings are automatically stored to the database for later reuse or further editing.
Virtual Speaker
That's the feature that turns a playlist into a near-live show. WinjayVX may be programmed to automatically fire speaker overlaps on specific sections of songs, such as intro, end of the song, or inbetween the ending song and the next song's intro. WinjayVX automatically decides the strategy to adopt depending on the characteristics of the particular selected song, to automatically calculate the right time to fire the speaker overlap, or cut it from the playlist in case it is not possible to find a suitable space
Random music rotation
The integrated random music scheduler offers automatic songs rotation based on a mix of several selection criteria like style, min/max date, nationality, vote, BPM, saving considerable time comparing to manual scheduling.
Advertising scheduler
WinjayVX integrates a comprehensive commercial planner, a perfect match between features offered and ease of use. Scheduling commercials is easy as a few clicks on desired slots, and you may use shuffle, priority and date/based planning.
Smart Opener
A smart trick to keep your listeners tuned to your radio station: just before a commercial break, WinjayVX will automatically play a small cut of the song which has been selected to be on the air just after the break.
External feeds
WinjayVX offers seamless scheduling and integration of external feeds, like satellite receivers, streaming feeds, live inputs, and so on. The integrated remote triggering allows starting the event at the exact required time.
To learn more about WinjayVX – Radio Automation software, please go to: http://www.winjay.net/en/applications/1/winjayvx
More informations about our products are available on website: http://www.winjay.net/en
Similar Posts: