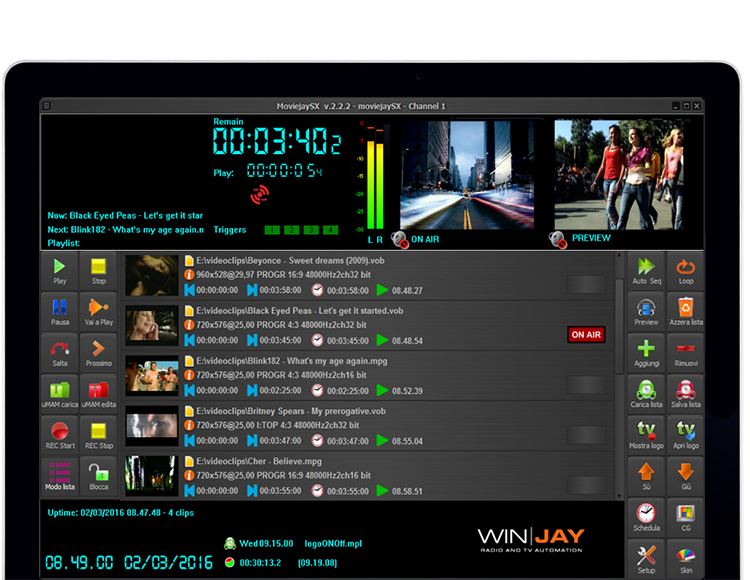 Talking about small business TV playout: Winjay offers MoviejaySX
Topics: MoviejaySX, broadcast-grade TV playout, TV playout small local channel, playout WebTV
MoviejaySX brings the broadcast-grade TV playout within the budget of small local channels, web TV, education centers, as well as cost-effective solution to multi-channel satellite uplink providers. True multiformat SD/HD playout, integrated playlist scheduler, multilayer CG, h264 & h265 streaming/IP output. CG Editor and μMAM (micro MAM) features, to always get broadcast-grade results without any compromise.
MoviejaySX: the perfect channel-in-a-box solution…
Multiformat playout engine
The multiformat playout engine allows to queue into the same playlist clips with different encoding such as H.264, HEVC.265, AVI, MPEG-2, DVCPRO, MXF, QuickTime, MP4, and a bunch of other industry-standard formats, saving time compared to long format conversion procedures.
Exact scheduling
The integrated playlist manager is engineered to compile, save and run your daily schedule at the desired time, automatically, with just a few clicks!
Advanced features like forced events, logo switching, loading of CG projects and many others complete the already powerful scheduler.
Integrated CG (Character Generator)
From a simple station watermark to complex projects with multiple graphics items, the integrated CG engine offers multilayer overlay of it all, saving money on purchase of a dedicated unit.
With the newly released CG Editor you can now place and move objects on the screen with just a drag and drop: Text, pictures, crawling and rolling tickers, Flash animations, subtitles, RSS feeds, realtime XML tables, and many more !
External feeds
MoviejaySX allows seamless scheduling and integration of external feeds like satellite receivers or any other external feeds, with remote triggering. You can even play incoming streaming feeds into your playlist just like a local clip.
Music Pack option
MoviejaySX can be quickly upgraded to run a zero-manteinance music channel. A dedicated plug-in adds folder-based clips random selection and style rotation & on-the-fly graphic overlay of clip title + artist based on animated Flash banners. The advanced shuffle feature guarantees that all clips inside a folder will be played before selecting them again.
For more details please click on: http://www.winjay.net/en/applications/9/moviejaysx
For download the demo version please go to: https://www.winjay.net/en/request-demo/9
Similar Posts: