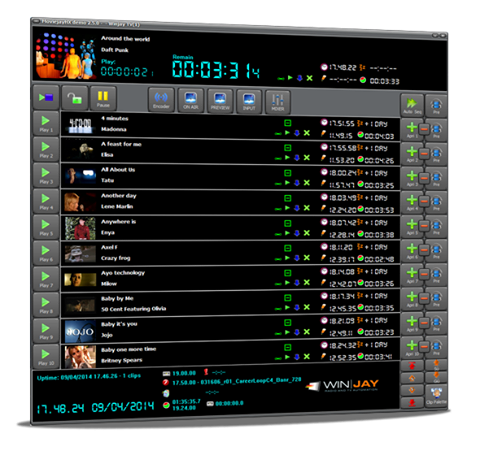 Corporate TV playout: Winjay offers MoviejayHX TV automation
Topics: Corporate TV playout: Winjay offers MoviejayHX TV automation
MoviejayHX is the complete corporate grade TV playout automation suite targeted to regional and national broadcasters, in a multiuser, multichannel workflow. True multiformat playout up to HD / 4K / 3D, integrated playlist scheduler, multilayer CG, h264 & h265 streaming/IP output, EPG features, to always get stunning results without any compromise.
Multiformat playout engine
The multiformat playout engine allows to queue into the same playlist clips with different encoding such as H.264, HEVC.265, AVI, MPEG-2, DVCPRO, MXF, QuickTime, MP4, and a bunch of other industry-standard formats, saving time compared to long format conversion procedure
Perfect transactions
The mySQL database engine offers virtually zero-maintenance integrity for your valuable data, high speed, reliable transactions and concurrent queries into a multiuser, multichannel configuration.
Integrated CG (Character Generator)
From a simple station watermark to complex projects with multiple graphics items, the integrated CG engine offers multilayer overlay of it all, saving money on purchase of a dedicated unit.
With the newly released CG Editor you can now place and move objects on the screen with just a drag and drop: Text, pictures, crawling and rolling tickers, Flash animations, subtitles, RSS feeds, realtime XML tables, and many more !
Advertising scheduler
MoviejayHX integrates a comprehensive commercial planner, a perfect match between features offered and ease of use. Scheduling commercials is easy as a few clicks on desired slots, and you may use shuffle, priority and date/based planning.
Popup scheduler
moviejayHX allows the seamless insertion of advertising banners, Flash animations, logos and graphic objects into broadcasting of movies, sport events or any other live show. You can now offer your sponsors an effective and innovate way of promoting their brand and products without even stopping the actual programming.
Integrated streaming
Hardware accellerated H264 & HEVC/H265 encoding and the virtual device output get your streaming service running to the world in just a few mouse clicks!
Consistent audio output
The integrated audio processor delivers constant on-the-fly levelling of audio output, thus avoiding nasty volume changes between different contents.
For more details, please go to our Website: http://www.winjay.net/en/applications/2/moviejayhx
To download and try the Demo version please go to: https://www.winjay.net/en/request-demo/2
Similar Posts: