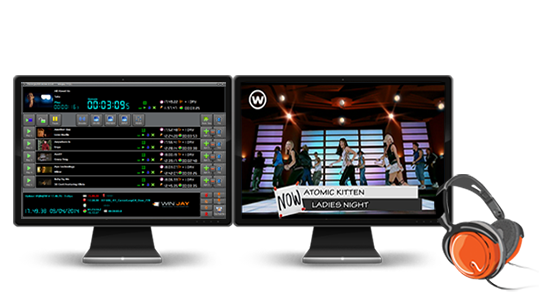 MusicPack
Manage a powerful videoclips database, automatically rotate music based on selection criteria, schedule advertising and popups, play back "any format" video clips up to 4K and 3D, add overlay graphics, and lots more. All the above into a unique, completely integrated workflow !
The Music Pack is the perfect solution to implement a turnkey TV music channel: powerful playout engine, prompt radio-style interface, comprehensive random music scheduling, realtime graphics and titling, popup scheduler, audio processor, everything in one single integrated solution!
Realtime clip titling
The integrated graphics engine creates realtime overlay of title, artist, next song/artist (coming next), website, album, director, story of (biography notes), etc. based on the filed informations. Specialized macro commands will rotate layouts according to the specific music clock.
Powerful music scheduling
The integrated radio-style random music scheduler offers automatic clips rotation based on criteria like style, min/max date, nationality, vote, BPM, or any combination of the above selection criteria.
Social server
A dedicated application receives Twitter, Facebook, Instagram, SMS, Whatsapp messages. Intelligent message filtering, multilingual bad word dictionary. Stream and manage everything with the simplest drag'n'drop gestures. Interaction with social platforms is now easier than ever.
Popup scheduler
Apart from classic advertising breaks, the Music Pack offers a popup scheduler to broadacast advertising as Flash banners (popup banners): thanks to this neat feature, you can advertise without even stopping the actual programming.
Consistent audio
The integrated audio processor delivers constant on-the-fly levelling of audio output, thus avoiding nasty volume changes between different contents.
Multiformat playout engine
The multiformat playout engine allows to queue into the same playlist clips with different encoding such as H.264, HEVC.265, AVI, MPEG-2, DVCPRO, MXF, QuickTime, MP4, and a bunch of other industry-standard formats, saving time compared to long format conversion procedures.
For more informations about Music Pack Plug in please go to:
http://www.winjay.net/en/applications/3/musicpack
To download our playout solutions on which you can integrate the Plug in Music Pack please go to:
http://www.winjay.net/en/applications/9/moviejaysx
or
http://www.winjay.net/en/applications/2/moviejayhx
Similar Posts: