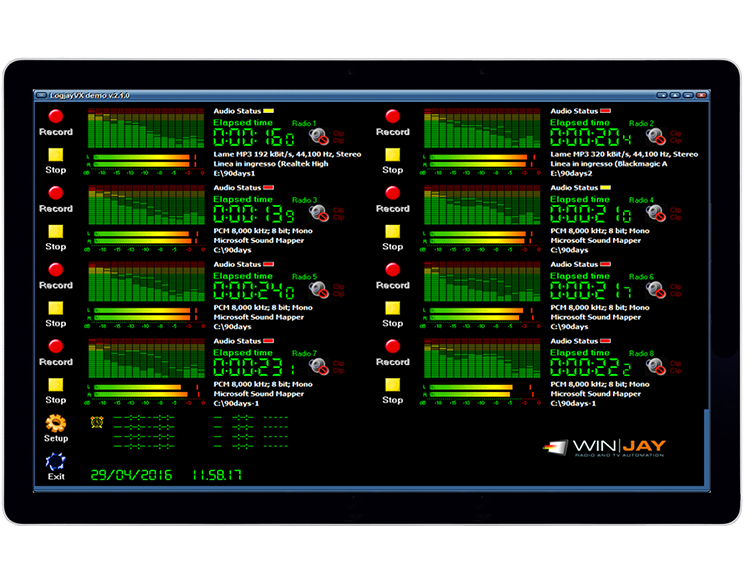 LogjayVX is a comprehensive audio logger for digital Radio by Winjay
Topics: LogjayVX, Audio Logger, Non-stop recording, compliance logging, schedule recording, Winjay
LogjayVX is a comprehensive audio logger for digital non-stop recording of the latest 30 days of your broadcast (or more). You just set the desired number of days to keep track of, and Logjay will record uninterruptedly 24 hours a day, with no human intervention. Versatile, extremely powerful and reliable, available in multichannel configuration, Logjay is the right solution to say goodbye to tape recorders.
LogjayVX audio logger
Run a multichannel compliance logging service, manage recording settings individually for each channel, schedule automated recordings, instantly retrieve filed segments from LAN, and many more features ! All available in the same application.
Works with off-the-shelf hardware
LogjayVX does not require any "special" hardware or "ingest server": the application guarantees excellent reliabilty with any Windows compatible sound card, on any standard PC configuration.
Buy what you require
LogjayVX is engineered on a multichannel building block structure, allowing from 1 up to 8 channels on the same recording server. Save money on initial purchase, add more channels later.
Recording scheduler
LogjayVX offers much more than just keeping track of your latest 30 days of broadcast: recordings can be easily scheduled or started/stopped by external triggering. This way, LogjayVX not only acts as compliance logger, but will also turn invaluable for automatic logging of satellite news or any other external feed.
Fully configurable
Recording settings are freely user-defined depending on available Hard Disk space and required quality: sampling rate, audio codec, bitrate.
Auto-rotate features
Logjay automatically removes the obsolete logged video to make space for the new one. You will always have the latest 90/180 days available.
Play from everywhere
A dedicated player plays back the recorded audio from any workstation in your LAN: more users might browse and retrieve the same recordings, while the recorder continues to ingest incoming audio.
More informations about our audio logger – LogjayVX are available on our website:
http://www.winjay.net/en/applications/11/logjayvx
Please learn more on the our other broadcast solutions both for TV ad Radio station on:
http://www.winjay.net/en/applications
Similar Posts: